Japan's "Ruby" open source programming language and its "Ruby on Rails" development framework. There are many apps and services developed using these, but one that is particularly noteworthy is the "Ruby biz Grand Prix 2021" annual reward program. This article introduces "Virtual Market" (Development: HIKKY), which is one of the two services selected for the 2021 Grand Prix Grand Prix.
Awards to recognize excellent Ruby business cases
Ruby, along with the Ruby on Rails productivity framework, is an open source programming language used by many development sites around the world. It started in 2015 to promote its dissemination.Ruby biz Grand PrizeThis is an annual rewards program. Ruby developer Yukihiro Matsumoto is sponsored by the executive committee of the Ruby biz Grand Prix, which was organized mainly by Shimane prefecture, which is the base of activities, and Mr. Matsumoto himself is the chairman of the judging committee of the Grand Prize.
As the name of the award suggests, among systems and services for professional use developed using Ruby, we will recommend those cases that are rich in novelty, originality, marketability and future potential, and which are expected to continue to grow over time. to come up. During the last Ruby biz 2020 Grand Prix, the "Medical Note" digital health platform developed by Medical Note (Related article:Realize a platform that "connects doctors and patients" by making full use of the API ─ Medical Note) and the shared workspace/desktop service "TiNK Desk" developed by tsumug (Related article:Operation is from LINE, a workspace service pursuing comfortable UI/UX ─ TiNK Desk) Won the grand prize (Related article:Article presenting the Ruby biz Grand Prix from 2018 to 2021)。
---
Ruby biz Grand Prix 2021 Grand Prix
virtual market https://www.hikky.co.jp/
Development overview: VR event platform
Development company: HIKKY
Lever technology:
・Ruby(Ruby on Rails、ridgepole、redcarpet、CarrierWave、Omniauth、Doorkeeperなど)
・ Node.js (Vue.js, Nuxt.js, etc.)
・Google Cloud Platform (App Engine, CloudSQL, Memorystore, Cloud Build)
・AWS (EC2, FARGATE, S3, CloudFront, Route53, etc.)
・ GitHub, CircleCI, Docker, Unity, C#, C++, etc.
Reasons to choose Ruby:
・ Technology selection that allows the first two developers to demonstrate the best performance
・ The initial delivery time was as short as 2 weeks, and the development speed and robustness of Ruby on Rails was required.
・ There is a lot of technical information in Japanese, so it's easy for beginners.
・One-stop solution to web application issues with Ruby on Rails
・ There is a use case on Google Cloud Platform, and it can be deployed smoothly.
Effect of adopting Ruby:
・ Even after changing the generation of engineers and improving the functions, the improvements continue without stopping the service for a long time.
・ Rapid development has been achieved
Comment from the president of the jury, Yukihiro Matsumoto: A successful service with many virtual exhibitions in Corona. Evaluate the potential of virtual reality, the power to mobilize and the potential for growth.
● Click here for another article about Ruby biz Grand Prix 2021
Related article:Heartful "YAMAP" mountaineering map GPS app that connects people and mountains ─ YAMAP
Metaverse/VR Event with Guinness World Records
HIKKY's "virtual market" (Figure 1) is the world's largest virtual event by Metaverse / VR. More than one million people visit each time not only from Japan but also from all over the world. The first event took place in August 2018, and it has taken place seven times so far.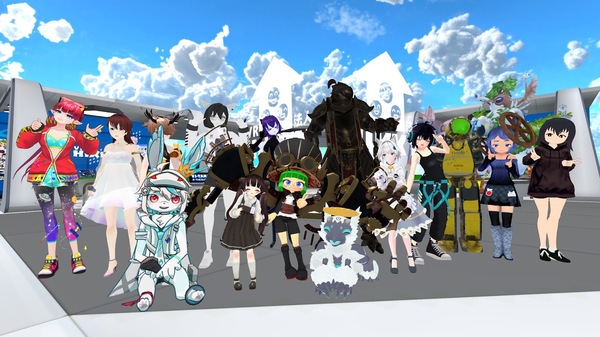 Figure 1: "Virtual Market" where avatars from around the world congregate in the Metaverse / VR space (Source: HIKKY)
Enlarged image display
The basis for claiming the largest scale in the world is the Guinness World Records certification. "Most Booths at Virtual Reality Market Events" and "Most Avatar Photos Posted on Twitter in One Hour" at Virtual Market 6 are recorded.
Participate in the virtual market as a 3D model avatar. Avatar is a substitute for yourself in virtual space, not only to look like you, but also to represent you as you want to express yourself. Anyone capable of producing 3D can exhibit here as a creator. Initially, it was a place of call for the work of the creator, the 3D model.
Mr. Aoi Yamamoto from HIKKY (Figure 2) Explains the possible experiences in the virtual market, "The main thing is shopping. In addition, you can experience attractions such as games, watching movies, testing cars and bungee jumping." Shopping sells real products that can be purchased on general EC sites and 3D models used in the virtual world.
"I think creators in all fields feel like if there's no deadline to do something, manufacturing won't move forward easily. Because everyone is pushing towards the same goal" , I can not do it anymore. It's fun to talk and encourage each other, and support everyone while posting progress on SNS. The virtual market started with the desire to animate these activities. " (Mr. Yamamoto)
The scale grows with each holding, selling 3D model works, exhibiting businesses, selling real products (food, PC, clothes, etc.), not only increasing the number of participants, but also expanding the range of experiences which can be done at the I've been there. The variety of 3D models is increasing and various items such as avatars created by creators, clothes and hair ornaments to decorate avatars, movements to move avatars, rooms on the metaverse and interiors to place there are in sale.
● Next: Use in real stores as in the case of Daimaru Matsuzakaya and BEAMS
To read the rest of this article,
Registration (free) is mandatory


【next page】Virtual store customers become real store customers