[調査・レポート]
Establishment of a specialized Metaverse organization to support customers
March 29, 2022 (Fire)Koba Kamiya (IT Leaders writing)

On March 25, 2022, Accenture released its annual research report, "Technology Vision 2022" (Japanese version of "Accenture Technology Vision 2022" announced on March 16, 2022). The report shows that emerging technologies such as Metaverse, AR (augmented reality), blockchain, digital twins and edge computing are beginning to compete for a future that is completely different from traditional business plans. For Metaverse, a dedicated organization will be put in place to support the use of experience in enterprise customers while investigating and researching business impact.
Accenture has released the latest version of its annual research report on global technology trends, Technology Vision 2022. This report is an interview survey of experts in the field of technology, with reference to the findings of an external advisory board composed of more than 25 experts. At the same time, we are conducting a survey of 24,000 consumers, 35 countries including Japan, 23 industries, and 4,650 senior executives/managers.
In this year's report, titled "Meet at Metaverse-Fusion of Technology and Experience to Recreate Business", the rise of emerging technologies such as Metaverse, AR (augmented reality), blockchain, digital twins and edge computing. experiences and the business competition they bring. Also, it is emphasized that the development of this trend recreates the way of managing business and organization and the way of connecting with customers.
Recreating the Business Environment ─ 4 Technology Trends
Technology Vision 2022 lists four technology trends that companies need to keep in mind in a rapidly changing business environment characterized by an "evolution towards recreation".
Trend 1: WebMe – "I" in the Metaverse
The report states that if platform interoperability and data portability in the digital world are not enough, the Internet is transforming with the Metaverse and Web3 (Web 3.0: decentralized Internet).
In this survey, 95% of respondents said, "Future digital platforms must provide a consistent experience and enable interoperability of customer data across different platforms and spaces." Technological advances fuel long-term strategic thinking and ambitious corporate visions (Figure 1)。

Figure 1: Influencing strategy formulation and business vision (Source: Accenture)
Enlarged image display
Regarding the Metaverse, 71% said it would have a positive impact on the business, and 42% said it would be revolutionary or innovative (it would be revolutionary or innovative).Figure 2)。
Figure 2: Business expectations of Metaverse are high (Source: Accenture)
Enlarged image display
Trend 2: Programmable World – Customize the World
In this survey, 92% said, "As advanced enterprises break down the barriers of the virtual world and bring it closer to reality, the need for consistency between the virtual world and the real world will increase." Additionally, real-world programming has become an important competitive factor, and many respondents tend to be aware of the impact of augmented reality on the industry.picture 3)。

Figure 3: Real-world programming has a huge impact on the industry (Source: Accenture)
Enlarged image display
In the same report, 5G, Ambient Computing,Footnote 1), AR, and the evolution of emerging technologies such as intelligent materials (intelligent materials), the digital environment should be woven into the real world. He states that not only the way people connect to the world and the content changes, but also the way people feel and interact, and the way they control them, will be renewed.
Note 1: Ambient Computing operates devices and systems on behalf of people based on various information from IoT networks/sensors, smartphones/wearable devices, etc., and behavioral pattern information stored in the system. The mechanism and the model to make. Familiar examples include Amazon Alexa, Google Assistant, and Microsoft HoloLens/MR (Mixed Reality).
Trend 3: Artificial and unreal creation of the real world
With advances in AI-related technologies and methods, when consumers value "their trustworthiness and authenticity" in relation to company content, algorithms and brands, how AI is being used more than ever for businesses. that it will become the most important problem (Figure 4). In this survey, 96% of respondents answered that they were "working to prove the source of the data and the true use of AI".

Figure 4: Many IT executives and managers are concerned about the risks of AI (Source: Accenture)
Enlarged image display
Trend 4: IT that makes the impossible possible – new machines open up possibilities
The company says methods such as quantum and biological computing will solve difficult problems that were previously not worth the cost and efficiency, and will dramatically change the way competition, value creation and collaboration should be. . ((Figure 5)。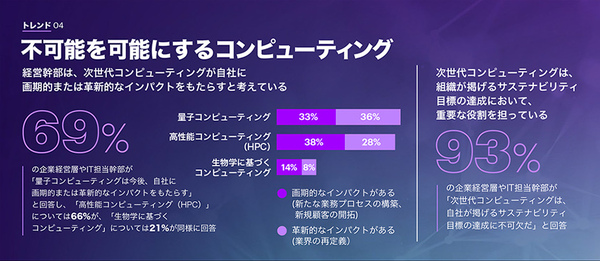 Figure 5: Around 70% of respondents said next-generation computing will have an impact (Source: Accenture)
Enlarged image display
In this survey, 94% said leveraging next-generation computing to solve seemingly esoteric challenges will determine long-term success.
The report cites Mars, a major US food company, as an example of leading companies tackling market uncertainty and starting to compete in the ubiquitous metaverse.
The company, in collaboration with Microsoft and Accenture, leverages digital twins as a technology related to the metaverse. It has reduced waste, accelerated capacity building operations and made real-time decisions for employees throughout the supply chain. Currently, he is trying to visualize more from the place of origin to the place of consumption through numerical simulation that incorporates fluctuating factors such as climate and disasters.
● Next: Creation of a specialized organization in Metaverse based on 600 patents and more than 10 years of experience
To read the rest of this article,
Registration (free) is mandatory


【next page】Establishment of a specialized Metaverse organization to support customers