The startup "MaiND Lab Co., Ltd." from Osaka University started in earnest. The "FaiCE" application (iOS, Android) which allows to visualize the image in the brain of the user is provided. Created using brain science, psychology and AI, this application has the potential to be applied to all areas such as packaging design development and avatar creation.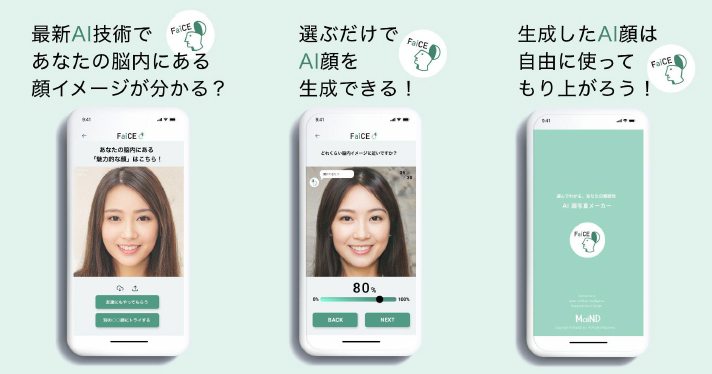 "FaiCE", an application that visualizes images in the brain
The MaND Lab was established in May 2021. Tomoyuki Naito, the Representative Director, is engaged in research on psychological mechanisms and neural networks related to deep learning, cognitive psychology, brain science and recognition visual, and is a full-time lecturer at the Graduate School of Osaka University.
FaiCE is an application developed based on the processing of emotional information in the brain studied by Mr. Naito. The basis is a unique technology that visualizes the image (mental model) in the mind. A patent has been filed to convert the comprehensive information obtained from vision into data using a unique algorithm that combines artificial intelligence from brain science and psychology.
"In the human brain, we have concrete images such as 'cool cars', 'cute cats' and 'favorite faces.' This image in the brain was visualized using artificial intelligence. Technology Specifically, tens of thousands of images of objects such as car images and human faces are trained by "GAN (Generative Adversarial Network)" artificial intelligence to generate a unique vector space.Unique algorithm By calculating the user's sensitivity vector based on the above, the artificial intelligence generates an image "(M. Naito).
This visualizes sensibilities such as "cool", "cute", and "beautiful", which were difficult to express in words. FaiCE can visualize the face you envision in your brain by marking 30 images.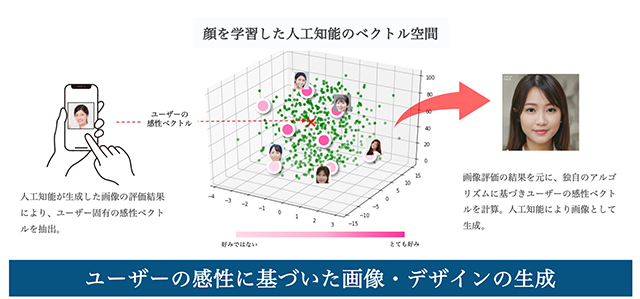 By marking 30 images, you can visualize the face you envision in your brain.
At the moment the main use is to visualize the face you envision, but the possibilities of FaiCE are wide. "It can also be used to derive the face of a person you have met before as an image, or to create a character that many people may like when creating a character. In addition, not only the generation of images, but also the understanding of the taste of painting, so it can be applied to marketing, such as guiding only the recommended places of the Louvre Museum and selecting popular packaging models using the data of the group of d 'users. In FaiCE, the young generation, I want people to know this mechanism widely while having fun, as if they were playing with the game, "explains Mr. Naito.
It has already started joint research with generalist companies such as interior designers and manufacturers of electrical equipment. "We are looking for partners who can jointly develop in various fields. If there is a company that feels the need, we would be happy to work together on new research," Naito said.
As a startup from Osaka University, MaiND Lab has been able to develop applications and collaborate with partners about a year after starting a business, but the big boost is "Spirete". Spirete is a startup studio that aims to rescue early-stage startups before venture capital investments and new hard-to-start ventures in the business. We are also trying to market research seeds to universities.
"We have five core members, fellows and advisors with specialist knowledge and partners, including Nakajima (Toru Nakajima), who is the co-founder and CEO, and we are deeply involved in early stage startups while advancing The aim is to support the start-up of startups by moving from the wall of ideas to the creation of business plans and support for financing", declared Koji Watanabe, Spirete Co-founder & Senior Director, explaining the position of Spirete.do.
I got to know MaiND Lab with Mr. Naito through an industry-university collaboration, and while having repeated discussions, I managed to develop an application. "MaiND Lab has a lot of people who want to participate in a popular project in Spirete (laughs). Currently the business is run with about 10 members, but the advisors mostly participate pro bono (for free)" (Watanabe) M .). The launch of MaiND Lab will be the first project for Spirete.
"Before starting the project with Spirete, some companies asked me, but it didn't work. I felt there was a distance between researchers and companies, and I felt there was a distance between them. I joined Spirete where I thought it would be difficult to close the distance, and I learned a lot about the process of starting a business and what I needed. Probably many universities had l idea from the seeds. I have it, but I think I got confused when I released it to society. If there is no one who can specifically support the process of starting a business, the search fundamental and knowledge from Japanese universities will not come out. I felt it was a valuable initiative," (Mr. Naito), revealing his experience.
"MaiND Lab was initially focused on research, so it was difficult to move to the manufacturing part. By adding our engineering partners and marketing specialists, we accelerated the development of the application." (Watanabe) Mr.) and the support of the team composition.
Even now, they meet once every two to three months and actively build relationships with startups. Asami Toyoda of Spirete Communication Manager said, "There are many companies supporting startups, but it is unique to Spirete that we can invest human resources from different industries. Even if you are not the main member, you can enter in the form of just By flexibly answering such questions, we want to expand our corporate vision by supplementing the parts that cannot be reached by members alone with external human resources," Spirete's role said.