Orutsu, Masterpiece, Com Design "AI BPO Double BRAIN" started
AI voice dialogue CTI system
Digital clone, PAI (personal artificial intelligence)※1 Orutsu Co.,Ltd. (Headquarters: Minato-ku, Tokyo, Representative Director: Chiki Yonekura, hereinafter "Orutsu" or "Orutsu") is Masterpiece Group Co., Ltd. (Headquarters: Minato-ku, Tokyo, Representative Director and Chairman: Juri Nakajima, hereinafter "Masterpiece"), Comdesign Co., Ltd. (Headquarters: Chiyoda-ku, Tokyo, Chairman: Kenji Terao, hereinafter "Comdesign") and "AI Call Center" provided by Orutsu https://aicallcenter Based on ai/, we will publish "AI BPO Double BRAIN" developed jointly by the three companies.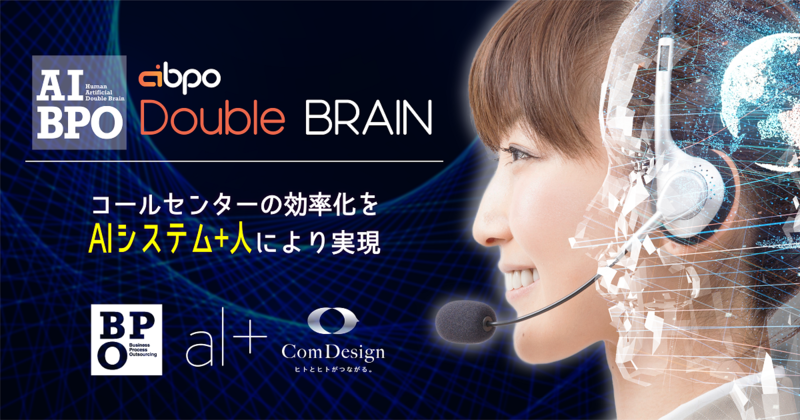 Introducing "AI BPO Double BRAIN (https://www.m-piece.com/service/aibpo/)", a CTI voice automation solution jointly developed by integrating the knowledge of "AI call center" from Orutsu and Masterpiece's call center operations. a m.
"AI BPO Double BRAIN" is equipped with a "Voice Bot" function, which can automatically respond to conversations with customers using only AI.
Additionally, by installing NeoRMR (https://alt-technologies.com/rmr/), Orutsu's natural language engine, as standard equipment, requests that cannot be handled by "Voice Bot" alone can be immediately transmitted to the operator. , and with customers. Automatically learn conversations with human operators.
As we learn, we'll interpret your conversation and present the best response candidates on the operator screen. The operator will be able to respond from among the response candidates.
With the release of "AI BPO Double BRAIN", we will be collaborating with Comdesign services, which has a proven track record of delivering top-notch cloud CTI systems in Japan. As a result, users can now use "AI BPO Double BRAIN" based on a safe and secure high performance call center platform.
Together with our company, Masterpiece and Comdesign, we aim to feature 300 companies by 2024.
■ Groupe Chef-d'oeuvre inc.
Masterpiece Group's management philosophy is to "continue to provide valuable outsourcing services that streamline management", in addition to global BPO services that can handle 30 languages ​​across the world, as well as AI BPO, visual IVR and the AI ​​chat. provide next-generation BPO services such as bots and RPA.
Company name: Masterpiece Group Inc.
URL: https://www.m-piece.com/
Location: 1-8-12 Nishi-Azabu, Minato-ku, Tokyo MPG Nishi-Azabu Building
Representative: Juri Nakajima, President and CEO
Created: September 1992
Business content: complete outsourcing activity
Contact center, multilingual contact center, outsourcing of BPO activity
Contact center DX and AI support
Activity to combat social risks
Flame advice, training, monitoring tools, monitoring agency, post-measurements, etc.
Complete Solution
■ Com Design Co., Ltd.
Comdesign was founded in 2000. Began to provide cloud-based CTI service "CT-e1/SaaS" in 2008. With its highly scalable in-house developed architecture and unique service model capable of meeting customer needs in detail users, it is supported by call centers regardless of industry, from small to large scale. In recent years, as CCP, we have fostered cooperation with DX solutions for call centers such as voice recognition and conversation analysis, which treat the "conversation" itself as data, and support creating new value for call centers.
※CCP (Converged Communication Platform)とは
"CCP" is a call center platform concept that can flexibly and easily link "voice data" or "text data" according to the specifications of the DX call center solution that uses the " conversation" between the client and the communicator.
Company name: Com Design Co., Ltd.
URL:https://comdesign.co.jp/
Location: 2-7-5 Hirakawacho, Chiyoda-ku, Tokyo Sabo Kaikan Main Building 3F
Representative: Kenji Terao, President and CEO
Created: January 2000
Description of the activity: provision of CTI services
Provide an in-house developed on-demand contact center CTI service "CT-e1 / SaaS"
SaaS business development
Packaging
Planning and selling CTI solution packages
contract development
Use of telephone line, Internet, intranet, etc.
Development contract for information processing systems and CTI solutions
■ Orutsu Co., Ltd.
Thanks to the research and development of PAI (Personal Artificial Intelligence) "alt" by digital cloning technology, we make our daily lives assets that continue to generate lasting value, and we are the first in human history to regulate ourselves by our own evaluation. It is a company that aims to create and realize an autonomous society.
Company name: Orutsu Co., Ltd.
URL:https://alt.ai/
Address: 7-15-7 Roppongi, Minato-ku, Tokyo SENQ Roppongi 809
Representative: Chiki Yonekura, Representative Director
Created: November 2014
Business: Development and provision of PAI (Personal Artificial Intelligence) "alt", research and development of artificial intelligence and artificial intelligence-related technologies, and consultancy, planning, development and operation of related services.
* 1 What is PAI (Personal Artificial Intelligence)?
"PAI (Personal Artificial Intelligence)" is an AI that aims to digitize our own intentions and place them on the cloud to clone any digital work.
 * "PAI" is a registered trademark of Orutsu.
"PAI" concept film:
https://www.youtube.com/watch?v=AqTDorosHwY
> Orutsu AI solution (partial)
◆ AI solution consultation reception site
◆ Official website "AI GIJIROKU (AI minutes)"
◆ "AI GIJIROKU (AI Minutes)" business plan official website
◆ Official website of the world's first "Nulltitude" AI clone quiz
https://nulltitude.ai
◆ "NeoRMR" operator AI support system official website
https://alt-technologies.com/rmr/
◆ "AI Interpreter" official website
https://tsuyaku.ai/
◆ "AI Call Center" official website
https://aicallcenter.ai/
◆ "AI Moderator" official website
https://aimoderator.ai/
◆ Official website "AI Translation"
https://honyaku.ai/
◆ Official website "Linguacode.AI" (international version of "AI translation")
https://linguacode.ai
Orutsu Co.,Ltd. Nishizawa Public Relations
TEL:03-6380-7076 e-mail:press@alt.ai
Orutsu Co.,Ltd. Sales Asai
TEL:03-6380-7076 e-mail:aicallcenter@alt.ai