text: Koichiro Nishigami
IBM Headquarters Engineering in Japan
Exhibition space made by RPG-style Metaverse
ISE Showroom is an exhibition event in "ISE Technical Conference 2022" sponsored by IBM Japan Headquarters Engineering (ISE).
We have a large number of demonstrations of solutions that use cutting-edge technology to help you imagine the digitization of your business. We provide innovative proposals that utilize industry/business knowledge and cutting-edge technology, as well as case-based solutions that deliver a satisfying customer experience.
Showroom in 2022 will unveil all exhibits in an RPG-style metaverse space. Explore exhibits with a familiar RPG-like user interface.
You can browse more than 30 exhibits by moving through the RPG field implemented in the Unity module running on the browser. By contacting exhibitors in the field, pictures and videos of the exhibition contents will be displayed on the right side.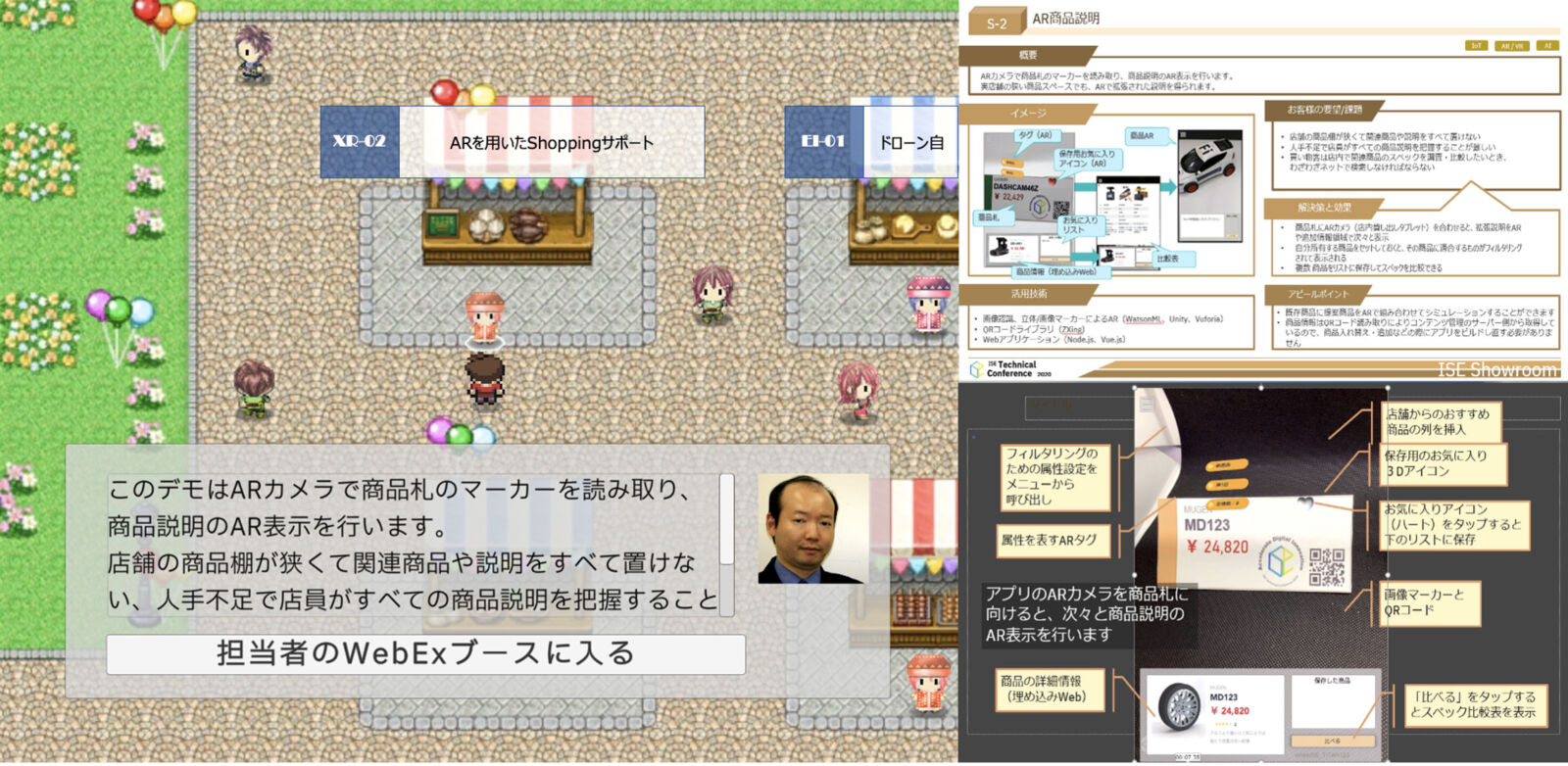 Join the Manager's WebEX Online Meeting for more information. There may be advantages to visiting many exhibitions (the screen image below is under development, please note that it may differ from the production implementation).
Among more than 30 exhibits this year, here are some of the most notable demos below.
◎ Manufacturing Category
Factory production line simulator / digital twin
Before planning a new factory, we will show you a demo that will allow you to see the optimized TO-BE on a virtual factory production line.
We will simulate a real high-volume and low-volume production chain with a digital twin modeled in digital space in an optimized form.
Virtually trying out what you want to integrate into a factory in a real space in a digital space, you can perform verification with Try & Error, which is difficult to implement due to physical restrictions.
It can also be used to simulate a system developed for a real machine. It is a solution that applies IBM's IoT technology and experience to digital twins.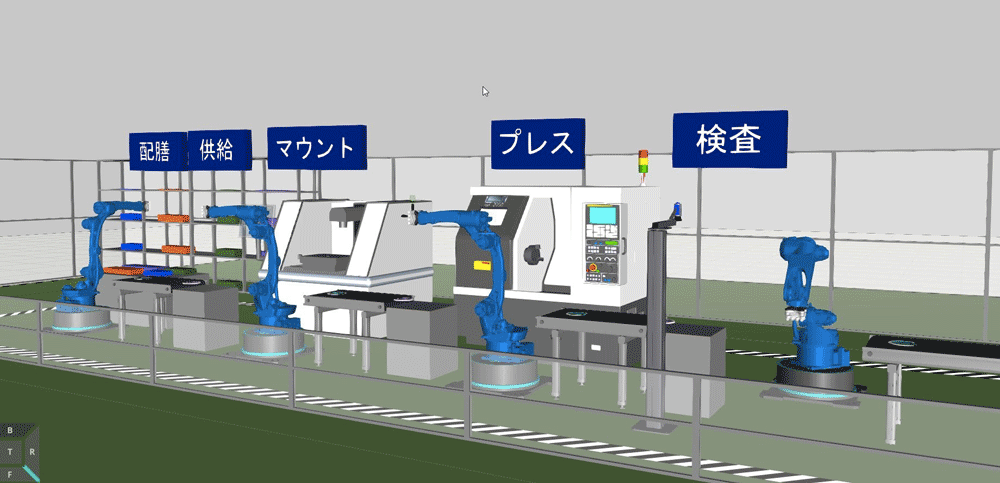 ◎ Edge & IoT category
3D data analysis using SLAM technology
SLAM, or Simultaneous Localization and Mapping, is a technology that simultaneously estimates self-position and creates an environmental map.
Using SLAM technology, you can capture "where you are" and "what's happening around you" on a 3D map created from camera footage.
This time we will introduce a solution that measures the distance to an object using a monocular camera (Logitech web camera), a stereo camera (Intel RealSense) and a ToF sensor (Azure Kinect) and notifies The approach.
It is a company that immediately measures the distance between two points, such as felling management (electric wires and trees), indirect live lines (people and power lines), drone autonomous flight (indoors where GPS does not reach, etc.), and is inexpensive without human intervention. It will be possible to measure automatically using various IoT devices.
In the image of the graph below, the center is the figure that extracts and maps the feature points of the image relative to the left reference image, and the right figure is the figure that generated the map 3D. Measure distances such as depth on this 3D map.

◎ Data & AI Category
Acoustic Analysis with Industrial Acoustic Insights
Industrial Acoustic Insights IAI) is an acoustic analysis technology that realizes "takumi's ears" that notice slight differences, changes and anomalies in sound through machine learning and deep learning in a form stable that does not depend on man.
In tasks requiring a slight sound difference (quality control, equipment monitoring, etc.), the machine can distinguish the sound difference instead of the human ear.
Stable working performance can be achieved without depending on the skill level of the human ear. It uses high-precision acoustic analysis technology developed by IBM's Research division.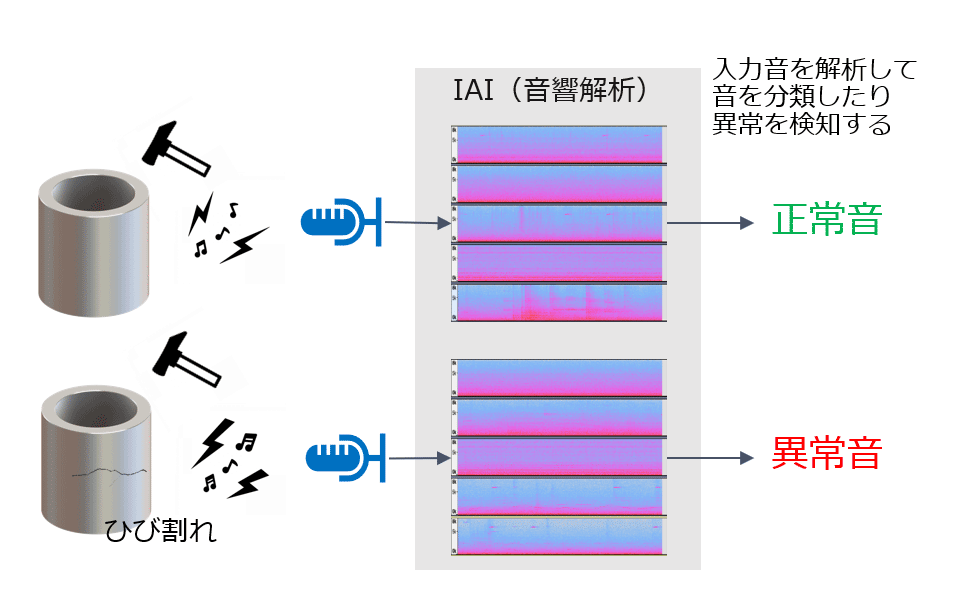 ◎ Event Preview
Name:ISE Technical Conference 2022
Date and time:April 21, 2022 (Wood) ~ April 22, 2022 (Gold)
form:in line
to rejoin:free
application:
・ Thursday, April 21: https://ibm.biz/isetech-register-day1
・April 22 (Gold): https://ibm.biz/isetech-register-day2
・ Brochure download:https://ibm.box.com/v/IseConf2022-Pamphlet
・ Organizer:IBM Japan Systems Engineering (ISE)
· Contact:ISE Technical Conference Office (iseconf@jp.ibm.com)
◎ List of solutions and demos
◇ Business automation
BA-01 Inheritance of expert knowledge
◇ Cloud
CD-01 Next Generation Monitoring Solution – Failure Prediction Analysis, Impact Scope Analysis, Operational Automation –
CD-02 Cloud factory which realizes the automatic creation of the environment required by the developers
Who decided that CD-03 could not be developed in a web environment? Although there is a hot topic Code Ready workspaces.
CD-04 Green Cloud Uncle – Child Monitoring Service Using Location Information –
◇Data and AI
DA-01 Personal AI Virtual Agent
DA-02 Customer Service
DA-03 Next Generation Customer Support Solution – From Customer Support to Analytics –
DA-04 Data Fabric -Easy to save, find and use data-
DA-05 MLOps made by IBM Cloud Pak for Data as a Service
Realization of data analysis platform by DA-06 Snowflake + IBM Cloud Pak for Data
Acoustic Analysis with DA-07 Industrial Acoustic Insights
DA-08 Technology for real-time recognition of a person's position, posture and behavior in space
◇Traffic
DI-01 Analysis and use of customer data via live trading
DI-02 Logistics Simulation and optimization of CO2 emissions
DI-03 Formulation forecast for new product development
DI-04 Visualization of in-store customer behavior analysis
DI-06 Automation of demand forecasting and price reduction with DSP distribution
◇ Electric
EE-01 For DX Promotion from Workflow!Process Mining
◇Edge and IoT
EI-01 Aerial photography and data storage by autonomous drone flight
3D data analysis using EI-02 SLAM technology
EI-03 Broad AI Technology for Anomaly Detection
Edge EI-04 AI Platform
EI-05 Real-Time Video Judgment Anomaly Detection Solution
◇ IBM Power
IP-01 IBM Power Monitoring Solution in the Cloud Era -Power Systems Virtual Server Monitoring Techniques-
IP-02 Ready to use now! DR (Disaster Recovery) Environment Automation Solution – Automatic creation of an on-premises Power DR environment on IBM Cloud –
◇ IBM Z
Next Generation Mainframe Operation with IZ-01 Z Chat Ops -Demo-
IZ-02 LinuxONE Disaster Response Solution
Use of IZ-03 mainframe IMS database update information by Apache Kafka
◇Manufacturing
MI-01 Factory Production Line Simulator / Digital Twin
◇SDGs
SD-01 SDG route guidance app using Carbon API
SD-02 Platform for creating an associated population using numeric regional points
◇ XR
XR-01 Showroom RPG
Purchase help with XR-02 AR