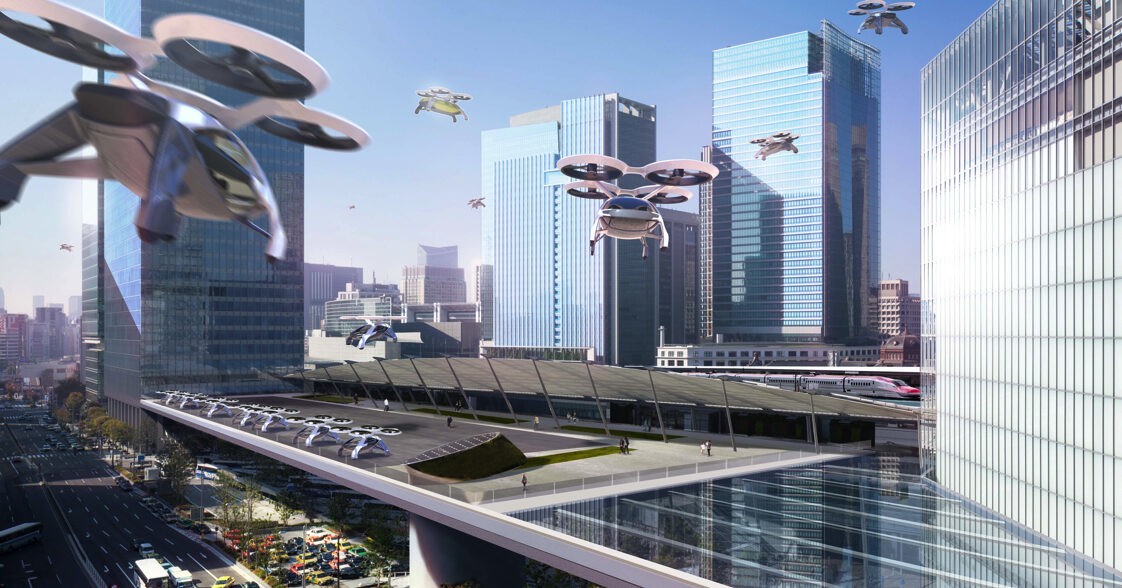 The momentum for the practical application of flying cars is increasing. Attention tends to focus on the development of eVTOL (electric vertical take-off and landing aircraft), which is the mainstay, but in recent years, many companies have entered the infrastructure development, and there seems that the development base is growing steadily.
In this article, we will explain the infrastructure needed for the practical application of flying cars.
■ Airfield
The take-off and landing site is an essential infrastructure for the practical application of flying cars. At the demonstration stage, it seems that the use of existing helipads will be the main focus, but in the future, it will be necessary to establish new dedicated eVTOL ports at various locations to realize flexible movement and transportation.
The EVTOL, which is able to take off and land vertically, does not require a runway and can be installed in a relatively narrow space such as a helipad. For practical use, the installation will start from places where it is relatively easy to ensure safety, such as harbors and riverbeds, and the installation is expected to progress to the roofs of buildings in urban areas in the future.
For the installation, we will organize the requirements according to the characteristics and performance of the eVTOL, make it a port that can support different types of aircraft that should be practiced in the future, quantify the noise standards , install sound insulation walls, etc. It is necessary to clarify. In addition to this, from the perspective of MaaS, it is likely that it will be necessary in a future perspective to seek a very convenient location as a mobile service while being aware of cooperation with other mobilities.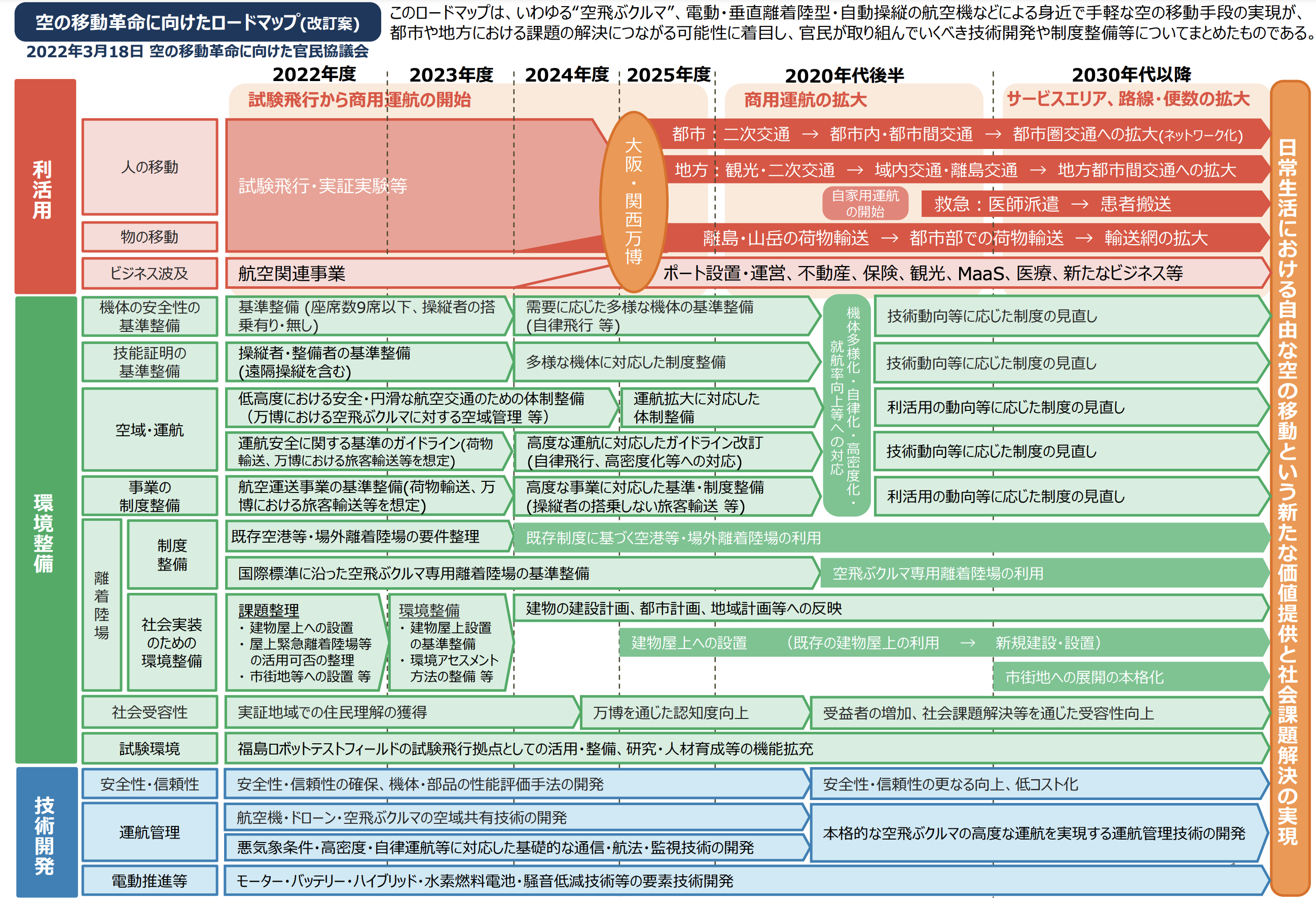 According to the Public-Private Council for Air Movement Revolution, the requirements will be organized around 2023, and a port that will allow flight between two points connecting the inside and outside of the site with the planned Osaka / Kansai exhibition. in mind in 2025. This is a policy to consider installing.
At the port inside the site, security measures such as signs, wind direction indicators, lights, take-off and landing management facilities with control functions, apron (spot car park), a waiting room, etc. are planned. It seems that what will be needed as equipment attached to the port will be organized in the future.
In the presentation to the public-private council, Tetra Aviation recommends carrying out take-off and landing in the parking lot of shopping malls, etc., and AirX uses the city center and rooftop helipad, early use in the morning and at night, the installation obstacles We are looking for discounts.
Overseas, Skyports, which develops and operates take-off and landing infrastructure, develops cost-effective, aircraft-independent port design and installation services in partnership with local governments and landowners. The company is already building and marketing a port in Singapore in partnership with Volocopter of Germany.
Also in Japan, it appears to have partnered with Kanematsu and is researching infrastructure construction and the drone logistics market.
Flying car and drone logistics, business opportunity in "take-off and landing" support industry https://t.co/IBkbKM2Sn8 @jidountenlab #Kanematsu #Flying car # Take-off and landing

— Autonomous laboratory (@jidountenlab) May 10, 2021
■ Air traffic control system
A new control system is needed for flying cars, which are expected to fly on various routes more frequently than conventional aircraft.
Air traffic control captures the position of the aircraft in real time so that the aircraft (eVTOL) do not collide, and gives instructions such as take-off and landing order and clearance, flight route and altitude. It is a role to monitor nearby airspace with radar etc. and issue specific instructions to all aircraft.
At the beginning of the introduction, flying cars should be mainly for pilots and remote control, but in the future, they will be unmanned. It is expected that the conventional direct communication between control and the pilot will change form, communicate with the operator on the ground and give instructions, and the number of operators will increase considerably compared to the past…
How to control complicated air traffic will probably require the construction of a new control system.
■ Communication-related equipment
The communications and wireless infrastructure that connects aircraft to aircraft, and aircraft to operator and control system is also essential. Cellular network such as 5G It is necessary to develop a communication network that can be used stably depending on the altitude and the flight area, including mobile communication and satellite communication.
It seems that the ISM band of the 2.4GHz band is mainly used for the wireless link for drone control, but the security cannot be guaranteed due to external interference, etc., and it is not suitable long distance operations. It is likely that we will need an environment capable of guaranteeing reliable, low-delay communication, as well as a band allocation requiring a license.
■ Feeding Equipment
Equipment that efficiently and effectively charges flying cars, such as EV (electric vehicle) charging stations, is needed.
Flying cars should be equipped with larger batteries than EVs and allow high efficiency, so it seems necessary to build an electrical infrastructure capable of supporting heavy loads and managing them firmly. ..
■ Aerial map
If there is a 3D map of the entire airspace, such as a high-precision 3D map for self-driving vehicles, it is possible that more accurate and safer operation can be realized.
There are almost no landmark objects in the sky, but it may be possible to draw a clear navigational route in the sky by creating an aerial map that works with the ground, which is rich in objects.
It is attractive to fly freely in the sky without obstacles, but the risk of collision and near-miss increases accordingly. In the future, it may be possible to build an invisible road in the air and realize a map infrastructure that allows each operator to effectively navigate certain disciplines and rules.
■Law and system
Amendments to laws and new regulations for flying cars are also indispensable as an institutional infrastructure.
Regarding aviation law, we have organized safety standards and processes for eVTOL certification, safety standards for remote control, standards and processes for the operation of eVTOL manufactured in abroad and requirements for the certification of commercial establishments based on the eVTOL specifications. aircraft safety.
In addition, with regard to technical certification, there is a need to sort out the certification requirements for the skills of operators and maintenance personnel considering the eVTOL specifications and maneuvering methods, and the requirements that should be required of pilots. for remote control.
In addition to this, it is possible to respond to flights below the minimum safe altitude (150 meters) in the flight area, organize requirements and processes to define limited flight routes, and coordinate and contact when operating in the limited flight area. and the arrangement of the process, the adjustment and arrangement of the operation method for the test flight, the equipment to ensure the safety of navigation, the equipment to record the operation status, etc. , the fuel needed for the battery There are many things to do, such as standard examination and operating rules at night and in bad weather.
In Europe and the United States, it seems that the introduction of a new licensing system for eVTOL operators is also being considered. The type of system to be established for large-scale commercialization to ensure both safety assurance and service promotion is an issue to be monitored in the future.
■ Companies are moving into infrastructure business one after another
Nippon Koei will begin the development of take-off and landing sites using the experience of surveying and constructing existing airports. Based on the technical knowledge related to heliports, airport engineering, electric power engineering, environmental assessment, etc., we will carry out studies including airspace design, control systems and power supply equipment.
Mitsubishi Estate intends to promote skyport management activity and community development around the port with landowners, port owners and port operators to create an ecosystem for flying cars.
Chodai, general construction consultant, reviews the system design phase and take-off and landing site deployment, and demonstrates its strengths in each phase from the creation of environmental standards, optimal placement, effect verification, planning/design and operation, and putting it into practice. It is said that it will contribute to it.
■[Résumé]Flying cars bring innovation to the movement of the sky
In order to realize a flying car that brings innovation to air traffic and air movement, it is necessary to properly determine to what extent the existing air traffic infrastructure and operational rules can be used, and in some cases to review from scratch.
Keep an eye out for trends like the public-private consultancy for the controversial mobile revolution in the sky.