[FiNC Technologies Co., Ltd.]
-Maximize the use of FiNC healthcare assets by connecting to existing enterprise applications-
FiNC Technologies Co., Ltd., a health technology company specializing in preventive health care and AI (artificial intelligence) technology (Headquarters: Chiyoda-ku, Tokyo, CEO: Mitsunori Nanno, hereafter referred to as "the company") is AEON TOPVALU Co. ., Ltd. (We have started to provide "FiNC OEM KIT" which makes best use of FiNC's healthcare assets to customers who use "Are Kore Navi" operated by TOPVALU).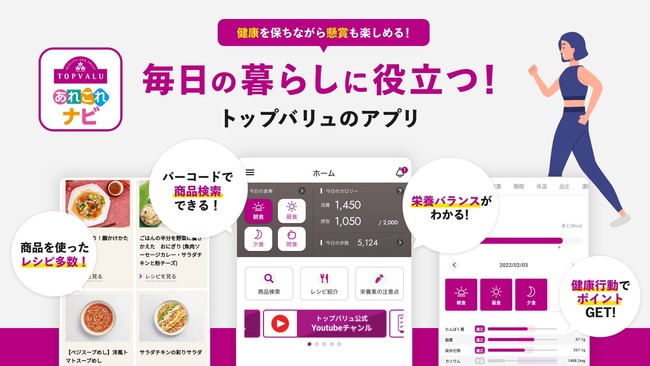 This time, we asked customers who use TOPVALU's product information search application "Are Kore Navi" to introduce the FiNC OEM KIT from the customer's idea of ​​a "service that can be used more in everyday life".
In addition to the functions existing so far, you will be able to record your body (steps, meals, weight, sleep, blood pressure, body temperature, exercise), and you will get points when you record. Additionally, you can claim prizes such as WAON POINTS for accumulated points.
Click here for the special site for "Are Kore Navi": https://www.topvalu.net/AreKoreNavi/
FiNC will continue to provide services in collaboration with businesses as a service to support the launch and expansion of new services in healthcare, which is deeply connected to customers.
■ What is the FiNC OEM KIT?
"FiNC OEM KIT", which can only be provided by "FiNC" health care application which has exceeded 11 million downloads, supports the development of enterprise health care applications in an efficient, simple way and inexpensive by making best use of FiNC's healthcare assets. I will do it. For customers, such as ensuring a high continuation rate with measures to increase motivation such as recording life logs such as daily steps, meals and weight, and communicating advice, and new functions using technological patents (including AI) in the field of health. The strength is that we can grow according to the demands. Moreover, it is possible to extend the healthcare function by launching a new healthcare service or by connecting to the company's existing application via an API.
■ Click here for details of FiNC OEM KIT: https://company.finc.com/dx
About "FiNC" Health Management App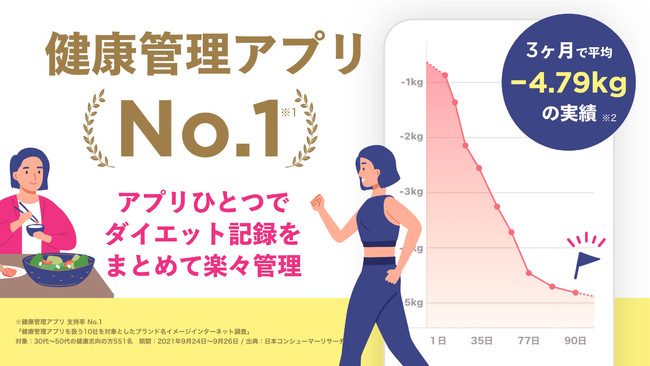 The FiNC app is a healthcare platform app with a built-in patented AI (artificial intelligence) personal trainer. We have exceeded 11 million downloads under the concept of "all your body in one app". In addition, we won the No. 1*2 download number in Japan for the Health/Fitness diet app we most want to pay attention to now, and won the grand prize in the "self-health category". improvement" to "Google Play Best of 2018". In addition, we have obtained 54 patents for technologies related to artificial intelligence in the field of health.


Simply download the app and take your smartphone with you to accumulate daily steps, record life logs such as weight, sleep time and meals, and give points that can be used with FiNC MALL depending on the number to not. Moreover, the AI ​​personal trainer has integrated various nutrition and exercise programs, including video content such as exercise, stretching, healthy recipes, yoga sent by experts such as famous athletes, trainers, nutritionists and a database of 200,000 foods. , We will carefully select and provide the menu that suits each user's interests and concerns. Even if you can't continue on your own, this is an app you can continue while having fun.
* 1 Patent No. 6075905, Patent No. 6360547, Patent No. 6486541, Patent No. 6429840, Patent No. 6010719, Patent No. 6362651, etc.
*2 Branding survey targeting 10 companies that run diet apps
Target: 554 dieters Period: September 24-September 26, 2021 / Source: Japan Consumer Research
About FiNC Technologies Co., Ltd.
We are a health technology company specializing in preventative health care and technology (artificial intelligence) with a mission to "enable people to enjoy healthy lives with meaningful data". This is a professional group made up of holders of health qualifications such as dieticians and physiotherapists, trainers, data scientists and engineers and researchers in the field of life sciences such as nutrition, kinesiology and psychology.
Company name FiNC Technologies Co., Ltd.
Location 2-2-1 Kanda Nishikicho, Chiyoda-ku, Tokyo KANDA SQUARE 11F
Created on April 11, 2012
Representative Representative Director and CEO Mitsunori Minano
77 employees (as of April 1, 2022)
FiNC app: https://finc.com
FiNC Mall:https://store.finc.com
FiNC for BUSINESS:https://company.finc.com/business
FiNC OEM KIT: https://company.finc.com/dx
UFiNC:https://u.finc.com
* The FiNC name and logo are either registered trademarks or trademarks of FiNC Technologies Co., Ltd. in Japan and other countries.
* Company names and product names mentioned are trademarks or registered trademarks of each company.
* The contents, service/product prices, specifications, contact details and other information contained in the press release are valid at the time of announcement. After that, it may be changed without notice.

DX Division Sales Representative: dx_sales@finc.com

FiNC Technologies Co., Ltd. Responsible: Yuge
Tel: 050-1742-0330 (in the name of) Mail: pr@finc.com
To the company press release details (2022/04/13-12:47)